There is

NO PLANet B

life.empowered.lives.engaged.living.enhanced
Time for (r)Evolution

EXTINCTION REBELLION

We All Must Be In It
or
We all join T-Rex
SOUL = Survival and Sustainability of Organized Human Life
Information Resources : Worldwide ACTIONS and SOLUTIONS
This is what we All are up against, the Two Critical Problems we must solve with Action Now - and there is no more "later":

Climate Dynamics and Extremes
Climate change, global warming, and extreme, non-linear weather and consequences within the planetary environment

Nuclear Weapons and War
Imminent risk of nuclear war that will be unavoidable global and destructive of human civilization
Here are some statements about
Real Constructive ACTIONS and SOLUTIONS
being undertaken by people and organizations worldwide
~ ~ ~ ~ ~ ~ ~ ~ ~ ~ ~ ~ ~ ~ ~ ~ ~ ~ ~ ~ ~ ~ ~ ~ ~ ~ ~ ~ ~ ~ ~ ~ ~ ~ ~ ~ ~ ~
Extinction Rebellion (XR)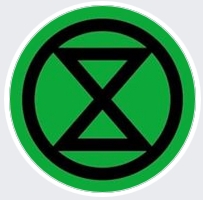 Extinction Rebellion (XR) began to be organized in 2018 but clearly has deep roots, worldwide. There are XR organizations developing in many countries around the world, and some of the earliest pioneers have been in the UK, Germany, Sweden, now also in USA, and the list grows and grows.

Here are some of the definitional statements about the what-why-how of XR, including statements of principles and practices that are good for everyone to read.

All of us, working all together, worldwide, and maintaining discipline in practices including non-violence and Respect for All Peoples - including basic respect for people who do not agree with us about Climate or about Nuclear War, or many other things in life - is The Way We Will Win Back Our Planet and Have a Sustainable, Healthy World for future generations.



More coming soon by other authors and on different topics!
We Need HELP with editing, compiling, webpaging, and also Translating and Subtitling, especially between these languages (spoken and written):
English
Chinese
French
German
Japanese
Korean
Portuguese
Russian
Spanish
Swedish
IF YOU CAN HELP PLEASE CONTACT US!
---
The SOUL Initiative and its Programs and Projects are managed through the PSED Program and the MIRNOVA Project, components of TETRAD Institute, a private non-profit international research organization dedicated to advancement of culture through science, technology, engineering, arts and mathematics, working in collaboration with partners in academia and industry.