There is

NO PLANet B

life.empowered.lives.engaged.living.enhanced
Time for (r)Evolution

EXTINCTION REBELLION

We All Must Be In It
or
We all join T-Rex
SOUL = Survival and Sustainability of Organized Human Life
Events - The SOUL Talks
Lectures, Talks, Workshops, and Special Social ACTION Events
The first events we are undertaking are a series of Lectures and Talks. These constitute the SOUL Talks Program. These will commence Spring of 2019 in Europe and USA and they will also be taking place in other locations around the world.

Meetings, Interactive Communications, the "Coadunatio" Experience of bringing together minds and all energies, and forming collaborative doings and makings - this is how we will collectively Sustain, Rebuild, Vitalize and Grow our Healthy Sane World. This is how to Extinguish Extinction. This is how we all, in our complete and thorough diversity-unity of human-kind-ness, will still be here in the year 2200 and well beyond - "wearing our same good genes".

These and other events emphasize direct face-to-face human interaction, dialog, and constructive planning, collaborating, and Action. Lectures and talks and other event activities will be recorded and available later via the internet. We plan to make many translations into diferent languages. As our plans develop, we will place here and elsewhere including in all the usual social networks and media, special announcements about locations and times.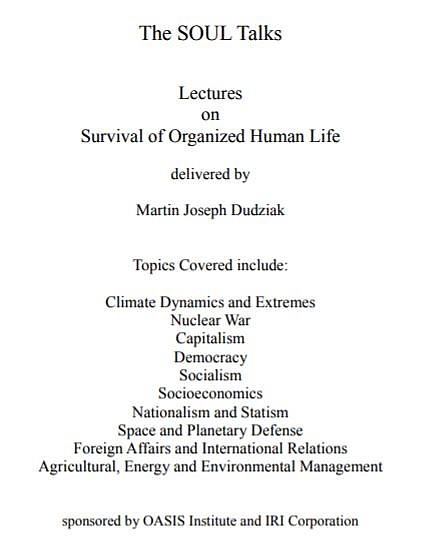 The SOUL Initiative and its Programs and Projects are managed through the PSED Program and the MIRNOVA Project, components of TETRAD Institute, a private non-profit international research organization dedicated to advancement of culture through science, technology, engineering, arts and mathematics, working in collaboration with partners in academia and industry.